image by adam thomas
Finnigan and Brother is the duo of siblings Chris and David Finnigan. Formed in Canberra, Australia, Finnigan and Brother have performed their ragged blend of music and spoken word for crowds around Australia and Colombia.
Chris creates eerie and blissful songs and soundscapes using a guitar, loop station and FX pedal, over which David performs scattered story-poems sampling popstar interviews, overheard conversations, science texts, FM/AM radio and ancient historians.
In 2012, Chris and David undertook a month-long residency in Colombia, working on new material and performing gigs with Colombian artists in galleries and arts spaces throughout Medellin. The songs composed and performed during this residency will be released in 2013 as Finnigan and Brother's debut LP.

image by adam thomas
BIO
Living under the same roof since 1988, musician Chris and David have collaborated on all kinds of creative and not-creative projects. However, despite countless hours writing, travelling, theatre-making and cooking together, the brothers only began playing music in 2007.
After collaborating as two parts of the music/performance/visual art/cooking experiment Fight Fire With Knives, the brothers joined forces with laptop artist Paul Heslin in 2008 to form Diplodocus. Finally, Chris and David decided to refine their countless jams into songs for a public audience and work seriously as a pair.
The brothers first performed at the 2009 Multicultural Fringe Festival in the Cancers, where they were mistakenly (but understandably) billed as Finnigan and Brother. Following a series of online releases and radio play, in 2010 Chris and David performed a live feature set on Sydney's FBI Radio show Sunday Night at the Movies.
In 2012, the brothers were invited to undertake a residency at the Campos de Gutierrez artist space in Medellin, Colombia. Over their month-long stay in the foothills of the Andes, Chris and David wrote and composed a series of new songs, as well as performing gigs in galleries and community arts spaces around Medellin. Upon returning to Australia, Finnigan and Brother performed a series of gigs in Canberra before recording their new material with producer Nick McCorriston at RMIT Studios in Melbourne.
Finnigan and Brother's debut LP will be released in 2013.

image by adam thomas
WRITINGS
Being in Colombia, this is what is happening
Blog written during our residency in Colombia discussing the Campos de Gutierrez artist space.
What happened at Altavista
An account of an incredible experience performing at a community concert in Altavista, a barrio on the outskirts of Medellin.
a sudden rush of Finnigan and Brother activity
Photos and thoughts from our short series of gigs upon returning to Australia.
Christmas is the Time
The story behind our 2012 seasonal release Christmas Is The Time, including the full text of backing track Because.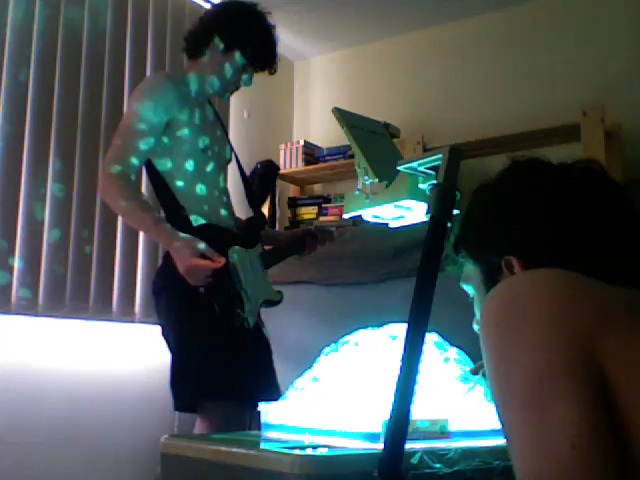 MUSIC
Finnigan and Brother's Bandcamp is the best place to grab our music. Hustle on over if you will, and grab some or all of the following:
christmas is the time
Finnigan and Brother's 2012 christmas single, and the first release from their forthcoming LP.
two princes (live at the phoenix)
A live recording of David and Chris' lo-fi cover of the Spin Doctors' 1992 hit, which follows the story past the original's happily-ever-after fade out. Recorded at Bad!Slam!No!Biscuit! at the Phoenix Pub in Canberra in August 2012.
the goddamn kings of leon.mp3 (2.4mb)
A gristly psych-jam cover of Kings of Leon frontman Caleb Followill's between-song banter to a UK festival crowd. Performed live on FBI Radio in 2010.
solar system play.mp3 (12.6mb)
In August 2010, Finnigan and Brother were featured on Sydney FBI Radio show Sunday Night At The Movies show to debut their live radio play. Solar System Play is a prison-break story which the earth escapes from its orbit and runs from the sun out into the dark. This 20 minute multi-part epic combines natural history lessons, religious propaganda pop, deconstructed sound poetry and high-octane action sequences (breaking into the aquarium and punching the fish).
you can't all be right.mp3 (3mb)
A 105 second slice of philosophical discource floating on the back of a single riff. A commentator on the Youtube clip for the song remarked, 'There was no suggestion on Mormons at all save for the end general application of all religions.'
medical drama.mp3 (15mb)
Music for a tense medical drama. The climax of an episode. Long panning shots of the hospital. The patient is wheeled into the surgery. The doctor is sweating – he hasn't performed surgery in five years – and he's drunk. But there's no-one else. The nurse offers him a tray full of fresh instruments. The doctor refuses. From his back pocket he produces a scalpel. Blunt. Dirty. Rust spots. Leaning in, he makes the first incision… (Also, check out the video for a sample of psychedelia done cheap.)
If you'd like more, check out the archived old page for Finnigan and Brother – there are a bundle of additional old tunes and Youtube clips there for your perusal and our embarrassment.

images by adam thomas