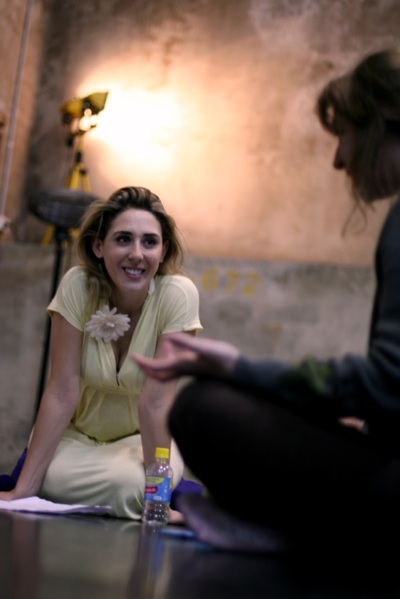 Corinne Marie in subtlenuance's 2011 production of so it's that kind of quest, directed by Erica Brennan.
All around me while I wake sleep and occasionally swim in the river, there are plays unfolding and opening up and rippling into life on all sides, coming into being in fits and starts. There's filthy creativity bubbling in the air while I'm trying to sleep, and it angers me and makes me jealous and infuriated, and the only way I could get my revenge was to write my own monologue. So I did: out of spite. It's called so it's that kind of quest and it traces the experience of watching the film clip for Justin Bieber's One Less Lonely Girl.
so it's that kind of quest can be performed a maximum of TEN TIMES. The first performance was December 2010 at the ATYP Fresh Ink national studio, the second in Sydney in June 2011 for subtlenuance's solo performance season Bare Boards Brave Heart. There are eight left.
Download so it's that kind of quest.doc.
Perform it. Write to me and tell me that you're doing it so I can add it to the count of performances. Most importantly, treat yourself by checking out the Wayne Fontana and the Mindbenders reference. I remember Game of Love as being a pretty cool tune, but the reality totally surpassed my recollections.
from oldschoolmusiclover
so it's that kind of quest
–    Nader turns to a stranger for comfort.
–    Nader buys Suha a special gift in a bid to win her over.
At its guts, at its core, at its raw bare bones, what we're starting from here is a Bieber-esque clip, one of that all too minute subset of film clips for the work of young Canadian pop sensation Justin Bieber.
as music-lovers and appreciators of the fine arts we need to pay tribute to the essential genius that lies at the crux of Bieber's work and his lasting legacy to the world of pop music – but more than that to the ongoing saga of what Wayne Fontana and the Mindbenders referred to as THE GAME OF LOVE which has been played in its many incarnations since the first stirrings between our ancient ape ancestors – our apecestors –
–    Now that Nader and Lorelai are back together, Nader can come into the diner.
Bieber entered a shopping mall music competition at age 13, posted up some of his quaint covers of popular R'n'B numbers on Youtube, then a studio A&R man cruising the internet picked up on him, flew him to Atlanta for an audition. Usher, who is a significant R'n'B producer and singer, was attached to Bieber as a producer and they released some successful singles.
–    Life suddenly becomes a whole lot more complicated for Nader.
So the story goes:
Bieber is sitting in a laundromat with an acoustic guitar – a girl comes in and starts doing her washing. Bieber makes eyes at her. She blushes and looks away. Anyway, she winds up leaving the laundromat after a whole lot of flirty eye-contact BUT she's left her scarf on the ground. Bieber picks it up and runs away with it.
[The chorus of this tune goes 'There'll be one less lonely girl']
So when this chick returns, Bieber has gone but there's a photo of him with her scarf and a note saying 'If you want to see your scarf again you need to come find me'
Outside the shop is an A4 piece of paper with an arrow texta'd on it pasted to a lamp post. So it's that kind of quest. Anyway, she rolls to a florist and the florist gives her a single rose and a note from Bieber which says 'I'll buy you lots of flowers'
then walks past a chocolate chop and the old Italian chocolatier comes out and hands her some chocolate and a note which says 'I'll buy you EXPENSIVE chocolate' (Bieber is a man of means)
–    Nader takes revenge on ex-boyfriend Ken with the help of his current girl Suha.
then outside a pet store Bieber convinces the pet shop owner to let him sit with a puppy dog and hold it up to his mouth and anyway, when the girl gets there there's a polaroid of Bieber macking on with the dog and a note saying 'I'LL GIVE YOU LOTS OF KISSES'
like you probably think I'm overstating how serious a kiss Bieber gave this dog, but it was at least enough that I'd need him to disinfect his face before planting one on me
anyway she finally catches up to Bieber inside some kind of romantic mood lighting shop, where he has positioned himself in mood lighting ground zero. So she hustles right up to him and he loops her scarf around her neck and draws her into him and they dance forehead to forehead in silhouette for a brief while,
–    What happens with Suha will break your heart but restore your faith in human strength. Includes Lotto draw.
and this is the most sad part of the whole catastrophe – is the moment that Bieber presses his forehead into the forehead of this girl and they're looking eye to eye – you know that's how you should see another person – that's how you hould see the people you care about, forehead to forehead, but while they're dancing Bieber barks the chorus THERE'LL BE ONE LESS LONELY GIRL into her face while they're slow-dancing
and frankly that would kill the mood for me
that would fucking axe it, right on the head, nave to the chops – getting really close to someone and then being referred to close up as a statistic, as representing a reduction in global loneliness
but this girl's probably a model or an actress trying to cut it in Hollywood, and man, good luck to her, I'm not suggesting she has an intimate connection with Bieber, but if she felt even slightly affectionate towards the dumb fucker then she'd have to feel a little put out when he starts behaving like she's just another rung on the ladder to the heights of minimal loneliness
& it is funny then that she probably has friends
& Bieber basically does not?
but gradually their faces press closer and closer and finally they kiss, briefly but for real, it's a mouth on mouth for real kiss and it's real and I saw it happen, and it's actually a little nice – it's not a great pash by any stretch, but it's kind of cute
–    Nader hires a hit man to kill him after his wife dies. Repeat.
& I guess what I'm saying is that if I were a 14 year old heterosexual girl with no real clue about male/female relations, I could buy into his brand of cutesy young male charm and his winsome grin, and I don't think there's anything wrong with girls going for that, and I don't even have a problem with girls crushing on Edward Cullen or Nick Jonas or whatever, and it doesn't bother me that these kids live weird warped celebrity lives in the spotlight as a consequence of being owned by Disney or in Bieber's case by Usher, and basically I think the system works and I'm okay with that, and teenagers are idiots but you know we're all stupid, and everyone gets laid eventually and I hope your first time was better than Justin Bieber's, because the pressure on that kid to perform in bed must be pretty intense, so count yourself lucky that you're free to fumble and get things wrong and laugh about it, I guess
–    Suha tries to hide the truth behind her mood swings. PG. Drug references.
and you'd assume maybe that Bieber's record company would hire a discreet escort agency, a sex coach or maybe even fly him overseas for some 'personal development', meaning hands-on tutoring, which is neither unavailable nor probably that unusual. After all, it's not commensurate with Bieber's public image that he be completely incompetent in bed and not, for instance, know how to maintain an erection while putting on a condom under his moistened partner's expectant gaze, which is by no means as easy a task as it seems, or becomes with diligent rehearsal, and while detailed instruction on the finer points of intimate congress is going to cost you a couple of hundred dollars an hour and you're going to want to sink at least a few grand in it to start really seeing results, that's not to say that Island/Def Jam Records couldn't utilise the economic driving force of 25 million 'Beliebers' aged 10-14 to make it happen. What I question is not the ability but the will on the record company's part to make Bieber as capable a throb in the pants as he is in the hearts and wallets of young women the world over. They don't want Bieber hooking up 4 realz. Instead, let us keep him in a state of being desired and yet frustrate his every desire. Leave him in the dark about the basic acts which you and I figured out way out of the spotlight
–    M. Adult themes, horror, nudity.
–    M. Repeat. Adult themes, violence, swearing, some drug use.
but I mean that's fine – it's not our responsibility to protect the young child stars – I mean maybe that is a part of our public duty, but if so there are more pressing problems that crave our attention. The celebrity industry, and in particular that part of the celebrity industry responsible for selling teenagers as icons is functioning as well as it ever has, perhaps as well as it ever will
–    MA.
–    M.
–    M.
and in the meantime you have your hand on my lower belly and mine in the small of your back, and neither of us quite sure what we're doing, but there's a confidence that comes with knowing that men and women the whole world round have been here before – struggled through this themselves – we are not the first virgins, none of us, we will figure it out, we will be okay,
–    G.
–    PG.
–    G.
and we will lie bathed in some kind of afterglow – all of us will, I promise – and though it feels like life and death right now, we will come to terms with the fact that nothing truly is at stake – I might lose my hard on and you might freak out and tense up and that's it for now, but no matter how traumatic it seems, there is more sex to be had
there is more sex in your future
there is more sex in your future
there is more sex in your future
you might die starving cold lonely but while you are alive
there's a crack in the walls of misery into which we can insert a thin wedge – like, kisses – like, fingers – like, tongues –
while Justin Bieber is sitting in an airport trying to handle jetlag and security is fighting off a clutch of screaming ten year olds
–    MA.
–    M.
we're figuring out how to give each other better orgasms
while Justin Bieber is eating takeaway backstage in a concert arena
unsure of where he is or what the fuck he's doing there
–    MA.
–     M.
there are orgasms flaring and bursting in the city all around him
all tiny moans everywhere just out of earshot
too soft under the din of concert PAs and screaming fans
–    MA.
little cries of satisfaction
little flowers, opening up to the suns that shine briefly between bedsheets
–    MA.
–    M.
and some stupid miserable kid
singing lyrics he doesn't understand
to a world he doesn't understand
I'm not saying we've got it figured out – not at all, not even slightly – but like, at least we're not going away building monuments to sex and romance
–    G.
–    R.
if it's there – and sometimes it's there – we put our hands on it – and it's soft like skin
& warm
& hard
& wet
–    G.
–    PG.
& it happens
it happens
sometimes it happens
sometimes it happens
& it happens
it happens
sometimes it happens
sometimes it happens
& it happens
it happens
sometimes it happens
sometimes it happens
–    2:05am. Station closes.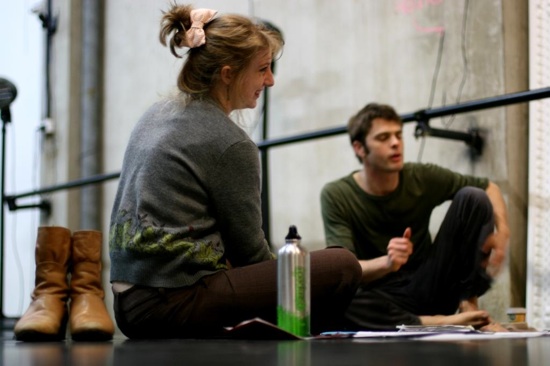 Director Erica Brennan and my self at a rehearsal for subtlenuance's 2011 production of so it's that kind of quest.