In RealTime issues 93 and 94, there was a 2-part retrospective on the ACT performing arts scene written by Gavin Findlay. Let me quote from the beginning of part two: 'In RealTime 93 (Here Be Dragons), we took a brief tour of Canberra's astonishing creative community in the mid 1990s and traced its rise. In this article, I want to examine what led to its dispersal, where everyone went and what's happening now.'
To roughly summarise Findlay's article, Canberra's astonishing creative community (centering around a company called Splinters) evaporated at the end of the 1990s, and was finally strangled by bureaucracy at the turn of the millennium. As an ACT theatre artist whose practice commenced at the turn of the millennium, this is strange to me. I didn't hear of Splinters while I was growing up in Canberra throughout the 80s and 90s, and I certainly didn't feel its absence. Of course, this is not to refute anything Findlay says – from all reports, some good shit did happen in my city in the last century, and it's to no-one's benefit that it all got shut down a decade ago. But for what it's worth, let me document my own impressions of the scene.
I emerged from a generation of Canberran theatre-makers whose practice kicked off in the early 2000s, involving probably 500-1,000 people in various capacities at various times, with a core of nearly 100 dedicated, passionate theatre artists producing shows at Gorman House, the Australian National University and the Street Theatre. One of the main characteristics of this scene was its isolation: no-one came to see our work, but at the same time, no-one tried to stop us. Only occasionally would artists from earlier generations come to check out our shit (mostly I figure cause how would they hear about it?), and there were no older/bigger companies waiting to absorb us when we progressed. So we proceeded by trial and error, we developed in strange directions without anyone to keep us on track, we experimented and supported each other, we reinvented the wheel a few thousand times, we stagnated, we collaborated and coagulated, we splintered off and scrambled in different directions, and then we dissolved. So it goes. Now it's 2011, and while I write an epitaph for my creative birthplace, some fresh-faced mofuckers are probably lighting new fires right all through the Cancerran undergrowth (where my old eyes can't see them).
I'm not going to attempt a summary of the scene – I couldn't be assed – but I do want to flag some of my favourite shows from the last ten years. It's a pretty myopic list – I know all the artists responsible for these shows and I've worked with many of them – but I'm not lying when I say they're my favourites.
20. The Street Theatre – Hoods (2008-9)
This one fucks with my criteria because it was not an independent production – unless there's more to the story than I'm aware of – but I'm including it anyway because it was fucking rad. The 2008 reading with Na Milthorpe and Jamie O'Connell stunned me with the bleeding-edge skill of Angela Betzien's script, but the 2009 production completely delivered on that promise. Director Bridget Balodis and designer Gillian Schwab created a nightmare landscape for the all-too-believable story to play out, and the performers squeezed the life out of every snapshot scene and character transition.
19. Bohemian Productions – The Empire Builders (2003)
It's totally suspect that a play by my company feature on this list, but believe me when I say I had very little to do with it. Kim Gorter and Nickyj co-directed this lesser-known Absurdist text by French playwright/saxophonist/Pataphysicist Boris Vian. It's a bleak horror-comedy in which a respectable bourgeous family are driven higher and higher into the upper floors of their house by a terrifying noise. Charming and engaging performances by Steph Brewster, Arran Mckenna, Fi Atkin and especially Stu Roberts as the wise patriarch, and a pleasantly domestic aesthetic that grew more and more freakish as the characters are stripped of their possessions and their civilised facades.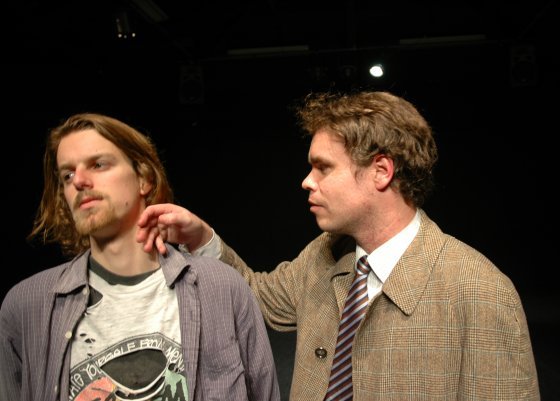 Pat Gordon and Matt Borneman in Seasons of Keane – Below the Line (2007). Image by Cardboard Charlie.
18. Cardboard Charlie – Seasons of Keane (2005-7)
Ben Drysdale's series of monologues and duologues by Melbourne playwright Daniel Keane set out to achieve very simple goals. Keane's scripts were largely simple, unadorned stories depicting desolate characters in heartbreaking circumstances. Over three years, Drysdale's productions carved out a space filled with loneliness, isolation, helplessness and regret. Despite that, I never once had any hesitation about attending them – I was always grateful that there was a space in which those stories were being shared. Drysdale's direction was always subtle and straightforward, and the various productions featured some of Canberra's most sensitive and capable performers given free rein to demonstrate their abilities.
17. NUTS – Woyzeck (2010)
Jasmin Natterer and Natalia Thomas' lo-fi production of Buchner's oddball classic Woyzeck (1837) won my heart by flipping the usual ANU / NUTS production format on its head and throwing away the safety net. Taking the production out of the cosy confines of the ANU Arts Centre's Drama Lab and planting it in a bare rehearsal room, Natterer and Thomas crafted a deliberately lo-fi production with no room for artifice or tricks. With the audience in the traverse and the thin strip of stage lit by two bare lighting trees, the performers had nowhere to hide and there was no space for the energy or tension to dip for a second. The performances were uneven, but the raw energy and intensity driving this work made it totally engrossing.
16. Moonlight Productions – The House of Bernada Alba (2010)
I never had much to do with Lorca – never had an issue with his stuff, but it never grabbed me in any serious way. Then I saw Na Milthorpe's icily sparse production of The House of Bernada Alba and it was like someone had planted a burning coal at the place of my sin. A no-fucking around ensemble cast headed by Helen Tsongas, whose icy brutality was so real I got waves of chill flowing over me. It takes something special to carry off a script as loaded as this one, but Na's production hit all the right notes and avoided all the wrong ones.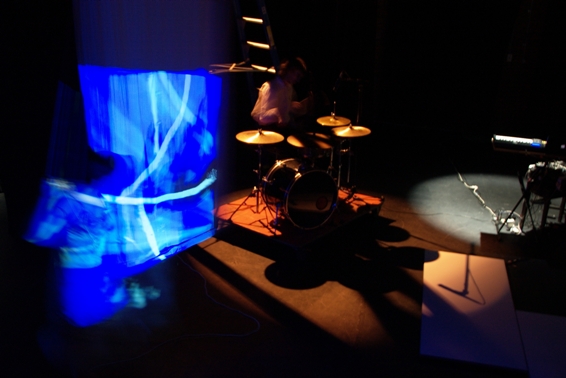 image from Cognition pt 1, courtesy of the Hunting Season
15. Last Man To Die – Last Man To Die (2008-10)
Originally assembled in 2008 by producers Ben Drysdale and Michael Bailey for the Hunting Season, the team of visual artist Ben Forster, performer Hanna Cormick and musician Chuck Martin straightaway formulated a distinct aesthetic and an intriguing futurist focus. Following their 3-part show COGnition for the Hunting Season, Hanna, Ben and Chuck (later joined by writer Pete Butz) reformed as Last Man To Die and began creating a series of inter-related works, each building on the last. Each iteration of the performance has pushed their collaboration in new directions and explored areas including interactive performance, durational installation, narrative theatre and music/AV/physical theatre. None have been entirely successful and none have been without merit, but taken as a whole, LMTD is one of the most intriguing performance experiments I've ever seen.
14. Lucy Hayes – Troy's House (2008)
So one of the more stylish things I ever saw on a rainy night was Lucy Hayes' ANU Honours production of Tommy Murphy's first play, Troy's House. Set in Canberra and written (I think) just after Murphy departed Queanbeyan to study in Sydney, Troy's House is a completely messy, hit-and-miss depiction of teenage life and love in the suburbs of Canberra. With Troy's grotesque mum (extraordinary performance by Aaron Ridgway) splayed out across the couch and weird marijuana fairies stumbling around the set, there were some beautiful what-the-fuck moments and a superbly bleary-eyed aesthetic hanging over it all.
13. The Frozen Shape Collective – The Birthday Party (2007)
Nick McCorriston's production of Harold Pinter's first full-length play was a long time coming. Originally proposed for 2003, Nickamc went through several changes of cast and venue before producing the show at Belconnen Theatre as part of the 2007 WET Season. The long lead-time went to good use – the production was a really thoughtful, really detailed unravelling of the script, and captured all the comedy and menace of Pinter's script in vivid colour.
12. Steph Brewster – M is for Moon / After Magritte (2006)
Graduate students from the ANU Theatre Studies course were required to produce a full production as part of their Honours year. Over the decade, these shows were continually a source of inspiration and the place where I would learn about previously unknown classic texts and writers. Of them all, Steph Brewster's Tom Stoppard double-bill was perhaps the most memorable, combining superb production values, razor-sharp performances and a subtle but intelligent directorial focus. Na Milthorpe and David Clapham as an aging couple in the short but sorrowful M is for Moon remain perhaps the most profoundly melancholic performances of my decade.
11. Ginny Savage – A Memory, a Monologue, a Rant and a Prayer (2008)
Eve Ensler is probably the best playwright, and this script might actually be better than the Vagina Monologues. I had no idea this piece even existed before Ginny Savage directed a version for V-Day 2008. The script is a selection of monologues exploring violence against women from a variety of perspectives, and every single one of them hit home hard. From Robbie Matthews' deceptively gentle opener 'The Closet' to Carol Whitman's blistering execution of 'Blueberry Hill', the whole play left me reeling.
10. Theatre of Rats – Papyrophobia in Yellow (2008)
A collective of Narrabundah graduates assembled by Amelia Searle, Theatre of Rats' first show was a glorious mash-up of text from Alice in Wonderland and J. Alfred Prufrock in the framework of Charlotte Gilman's 1892 short story The Yellow Wallpaper. The extraordinary script (written/mixed by Searle and Lisa Divissi) was backed up by sophisticated direction, an eerie design and a large cast that combined serious energy with genuine skill. I remember sitting shaking my head feeling genuinely humbled watching an ensemble of 17 and 18 year olds bring all the elements into serious alignment.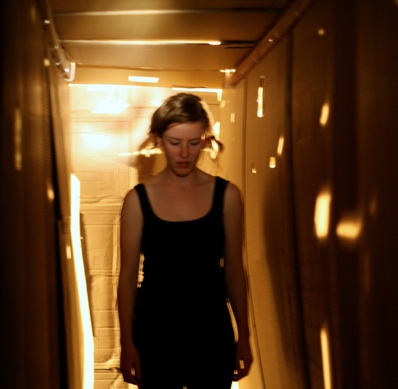 .
Cathy Petocz's The Booth (2008 vintage).
9. Cathy Petocz – The Booth (2008-9)
Physical theatre artist Cathy Petocz created the first iteration of The Booth in Gorman House's C-Block Theatre as part of her Canberra Youth Theatre Open House residency in 2008. It was a massive cardboard and wooden structure which could house one audience member at a time for an intimate 10-minute microperformance. When I first experienced it, the show was a stark and savage performance of Pool (no water) by British playwright Mark Ravenhill. In 2009, when Cathy toured it to the Crack Theatre Festival in Newcastle, the Booth changed both in texture (from a bare torchlit tunnel to a dimly glowing garden of inflatables) and content (from Ravenhill's harsh post-dramatic monologue to a sweet and simple encounter between performer and audience), but in both iterations I felt the same sense of powerful, unadulterated engagement.
8. Opiate Productions – Kafka's Dick (2003)
The final production by Boho's sister company Opiate was Alan Bennett's 1986 comedy Kafka's Dick, in which the ghost of Franz Kafka comes to harass his living fans. Directed by Jules Fleetwood, Opiate's production was sharp, sassy and was the first theatre production I had the faintest involvement with that didn't lose reams of money. This set a standard for all my future endeavours that I strove to meet.
7. Erin Pugh – Exit the King (2006)
In a community of artists who frequently namechecked Absurdist Theatre as a serious influence, there were surprisingly few stand-out productions of Absurdist plays. The three that stood out for me were the Frozen Shape Collective's production of The Birthday Party, Bohemian's The Empire Builders and Erin Pugh's ANU Honours production of Ionesco's Exit the King. One of the few shows to really stretch the capabilities of the ANU Arts Centre's Drama Lab venue, Erin's version of Ionesco's script was weird, high-intensity comedy underpinned by the crawling, inevitable countdown to death. Stu Roberts' performance as the king veered from self-possessed megalomania to infantile neediness with flashes of horrifying insight, and the whole 80 minutes gripped and inspired me in a way that I can't quite understand.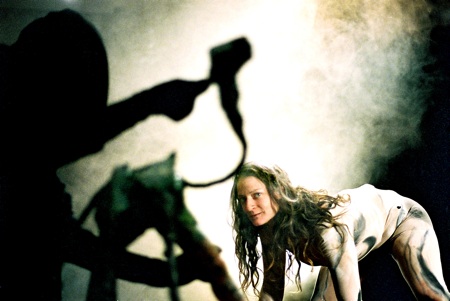 barb barnett as the All-Mother in 2003. Image by 'pling.
6. serious theatre – All-Mother (2003, 2006)
barb barnett was/is one of the most influential figures on my practice, and her large-scale puppetry/physical theatre work All-Mother remains a high-watermark in Canberra indie theatre of my lifetime. The first version of All-Mother transformed C-Block into a primeval jungle, with barb flying through a mist-shrouded Garden of Eden as Lilith, the mother of all demons. (Great date-play.) The 2006 iteration of the show took place on a much larger scale in the Street Theatre, with an enhanced cast of puppets, a brutally irreligious storyline (told backwards!) and a stunning central performance from barb that tied the whole extravaganza together. The C-Block version completely did my head in, but the Street Theatre version remains my favourite, if for no other reason that Gillian Schwab's incredible lighting – the sequence in which three angels made entirely of light appear is still one of the most beautiful things I've ever seen on a theatre stage.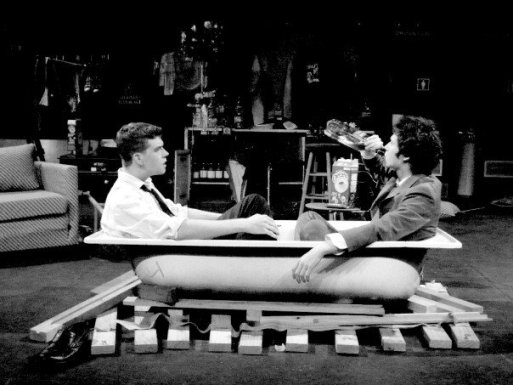 Sam Burns-Warr and Jordan Prosser were, possibly still are, The Landlords.
5. Sam Burns-Warr and Jordan Prosser – The Landlords (2007)
The highlight of the 2007 WET Season was the post-apocalyptic absurdist double-act of Sam Burns-Warr and Jordan Prosser. Assembled from their years of collaboration at Radford College, The Landlords was an enormously overstuffed collection of comic skits, thought experiments, rambling dialogue and elaborate set-pieces. Set in a dilapidated hotel foyer after the rest of the world's population has succumbed to varying forms of destruction, Prosser and Burns-Warr gradually worked their way through the remaining tasks left them while they waited for their fate. The Landlords was a sprawling, spiky tangle of ideas and inspired writing which trailed desolately, beautifully into the flickering dark. I still repeat the final line ('Well – that happened') before turning my light off in the evening.

Mr Fibby's Little Girl Lost. Image from The RiotACT.
4. Mr Fibby – Little Girl Lost in the Devil's Black Beard (2009)
It's weird that there are so few Hadley-plays on the list, but this more than compensates for any other masterpieces I've missed. Mr Fibby is the faux-gypsy music/performance ensemble of Sam King (guitar), Emma Kelly (violin), Grahame Thompson (cello) and Hadley (words). Their gigs have always been an exquisite car crash of music and theatre, but their first theatre-show was a blistering punch in the face of a very different order. I first experienced Little Girl Lost in the Courtyard Studio as part of the 2009 Fringe Festival, and then watched it swell and coalesce before its triumphant headline spot at the Crack Theatre Festival in Newcastle. Taking place on a junkyard set, Little Girl Lost is a mixture of music and storytelling, depicting the journey of the ugliest little girl in the world on her quest to retrieve her stolen violin from the devil. Hadley's script combines nightmarish fantasy with bleak comedy, and the extraordinary soundtrack drives the whole thing to incredible heights. Then there's the brilliant interplay between the band members, honed through years of touring and live performance, and Hadley's throat-tearing central performance as storyteller No Imporant, and the whole piece stands out from the pack like a bruised and bloody thumb.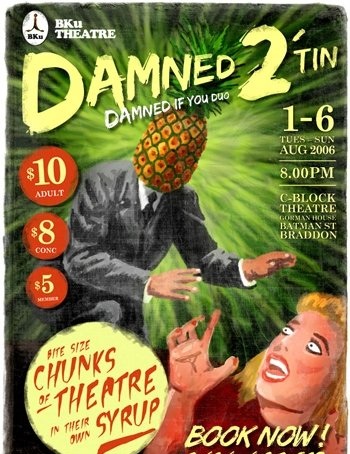 3. BKu – Damned If You Duo II: Damned 2'tin! (2006)
The theatre tribe of which I am part had many tentacles, many hubs and operated under many names. From my extremely subjective viewpoint, only one organisation ever came close to assembling the whole nation under one banner. This was Baccanalia/Krudulent United, the bizarrely-titled creation of Chris Rooks, Mick Keane and Jack Lloyd. From 2003-08, BKu produced a slew of productions which gathered together an enormous range of ACT artists. The most famous of BKu's ventures was Duofest, its annual festival of short duologues. Commencing in 2005 with the abhorrently-named Damned If You Duo, Duofest featured ten short plays written, directed and performed by local artists. At the core of the Duofest engine were Chrism, Jack and Mick (with significant contributions from designer Gillian Schwab), and through sheer brutal dedication, they turned what could have been a meandering Short+Sweet-esque variety show into a tightly produced, coherent and well-curated showcase of the best the city had to offer. The first Duofest set a strong standard, but my pick of the collection is the sequel – the even-more-abhorrently-named Damned 2'tin! (well done Jack). This instalment of the series included an accompanying compilation CD featuring original songs by a slew of ACT bands, coordinated by Nickamc and produced by Sam King, with its own separate launch event. As well as drawing a huge cluster of Canberra bands into the mix, Damned 2'tin! upped the ante both in terms of scripting and presentation. As far as a confluence of energies goes, this work was the high-watermark in a lot of ways, the ultimate gathering of the tribe.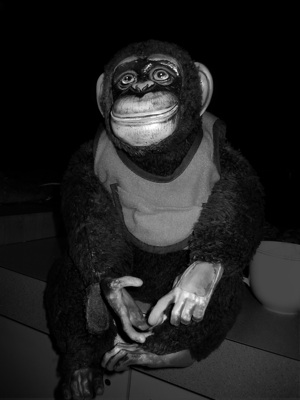 2. The Masters of Space and Time – Howard's Game/The Masters of Space and Time (2003)
Now mostly based in Melbourne, the collective of Arran Mckenna, Dan Jobson, David Clapham and Stuart Roberts kicked off activities in 2003 with this extraordinary double-bill. Written by Roberts, both parts of this double-bill were smart, tight and wickedly funny. One-man show Howard's Game featured Arran Mckenna as an aging children's entertainer, bitterly recalling his television demise and planning revenge on the perpetrater. The Masters of Space and Time, in contrast, was a blisteringly sharp farce which played on the Law of Unintended Consequences, and was the first, dazzling demonstration to me of Roberts' dazzling 'House of Cards' technique, in which an elaborate and elegant setup is followed by a brutal, escalating series of catastrophes. With exceptional production values and a completely honed aesthetic, MOSAT more or less conquered my heart and soul with this one.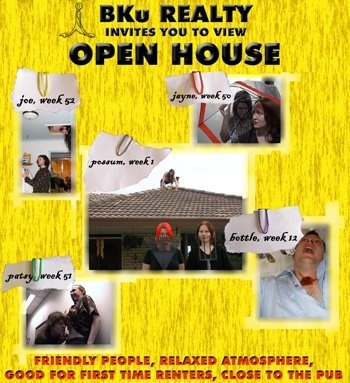 1. BKu – Open House (2007)
So while BKu's Duofest series remains the stand-out example of the entire scene coming together on a project, the creative forces behind BKu combined most spectacularly on 2007's Open House. Presented as part of the inaugural Canberra Youth Theatre Open House residency, BKu's core team created a brilliant black comedy based around a share-house scam. Best friends and housemates Pond and Maxine make a living by fleecing a neverending cycle of short-term housemates out of their bond money and driving them out of the house by any means necessary. This simple story became the backbone for a dazzling series of comic setpieces, featuring BKu's stalwart cast at their best. Chris Rooks' script turned what could have been a formulaic genre comedy into a punchy, artful story with some of the most brilliant comic scenarios I've ever seen. (The looping, dream-within-a-dream Gone With The Wind scene which drove Hadley's character over the edge remains the most cleverly constructed piece of theatre-writing I've ever read.) In addition, the complete transformation of C-Block into the rabbit warren and the artful interpolation of Canberran music into the play just hammered home how brilliantly all the forces came into alignment. My favourite show of the decade. Yeah, basically.