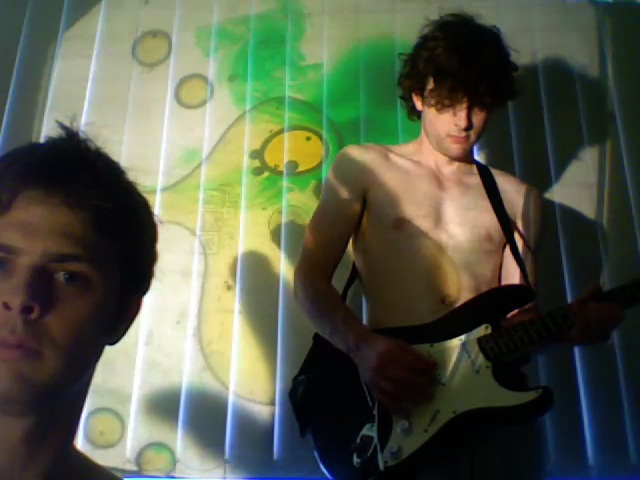 Finnigan and Brother is the duo of siblings Chris (guitar/FX) and David Finnigan (words/radio/visuals). Living in close quarters all their lives, they have written together, created theatre together and cooked together, but only in 2007 did they start recording together. This is how it works:
Their recordings combines Chris' fast-flowing and bony song-structures (Meddle-era Pink Floyd via Underworld and Stars of the Lid) with David's scattered story-poems, contributions lovingly coaxed from the FM/AM airwaves, and lo-fi psychedelic visuals, feverishly captured by the in-built recording devices in tape dictaphones, Sony Walkmen and cheap mp3 players.
In 2007, David and Chris were two parts of the music/performance/visual art/cooking experiment that was Fight Fire With Knives, and in 2008 they joined forces with laptop artist Paul Heslin to form Diplodocus. As a duo, Finnigan and Brother first performed live at the 2009 Multicultural Fringe Festival in the Cancers. Their work featured in the launch edition of digital zine Goofbang, and their music has been featured on Sydney's FBI Radio by New Weird Australia and Sunday Night at the Movies.
The following is a selection of Finnigan and Brother's output from the last three years, downloadable for free as mp3. If any of this takes your fancy, please feel free to drop a line and invite us to your city to play.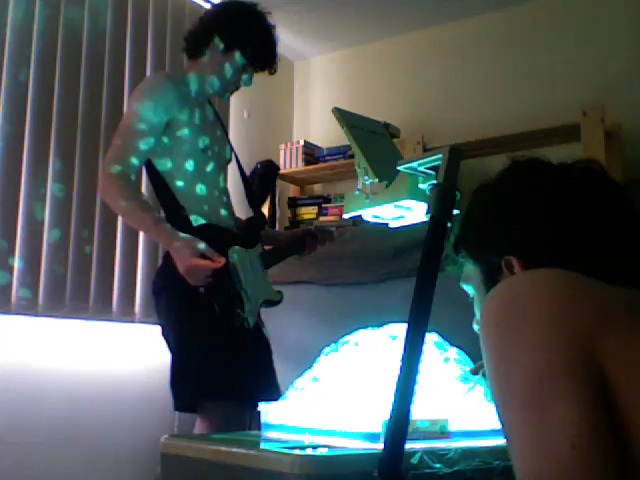 Finnigan and Brother – FBI Radio live set (Aug 2010)
In August 2010, Chris and David were invited to perform live on Sunday Night at the Movies, a weekly sound-art show on Sydney's FBI Radio. The set consisted of two pieces: a 90 second version of The Goddamn Kings of Leon, and the premiere performance of an extended piece entitled Solar System.
finnigan and brother – the goddamn kings of leon (FBI radio 2010).mp3 (2.4mb)
The extended psych-epic boiled back to a minute and a half of bare bones and gristle.
finnigan and brother – solar system (live FBI radio 2010).mp3 (12.6mb)
A prison-break story in which the earth escapes from its orbit and runs from the sun out into the dark. This 20 minute multi-part epic combines natural history lessons, religious propaganda pop, deconstructed sound poetry and high-octane action sequences (breaking into the aquarium and punching the fish!).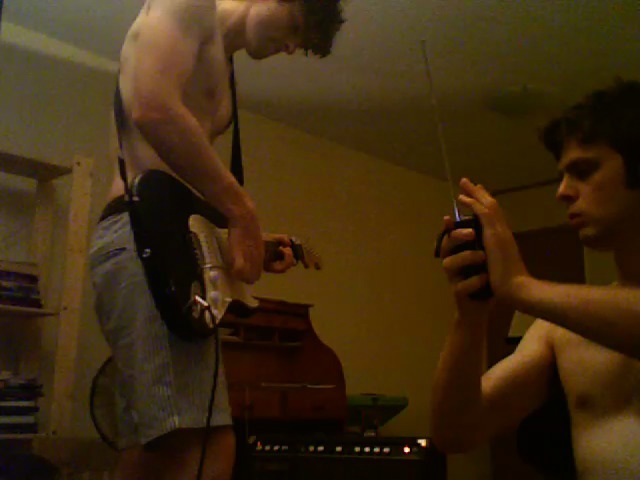 Finnigan and Brother – Golden Globe (Dec 2009)
At the end of 2009, Chris and David assembled in a North Sydney apartment for two days to record a new selection of material. By superb coincidence, those two days saw the city gripped by the most severe heatwave in a number of years. The end result is that in all the footage and stills from the Golden Globe sessions, Chris and David are shirtless and look like a pair of skinny Aussie hip-hop fans.
finnigan and brother – you can't all be right.mp3 (3mb)
A 105 second slice of philosophical discource floating on the back of a sharp riff. A commentator on the Youtube clip for the song remarked, 'There was not suggestion on Mormons at all save for the end general application of all religions.' A wise and inciteful review.
finnigan and brother – golden globe.mp3 (32.4mb)
The title track for the December 09 sessions is an oozing psychedelic jam trading off between Chris' crawling acid-rock and David's slow-spinning liquid circles on the overhead projector. The tune is cool, but you have to check the video for the proper magic-mushrooms-effect.
finnigan and brother – medical drama.mp3 (15mb)
Music for a tense medical drama. The climax of an episode. Long panning shots of the hospital. The patient is wheeled into the surgery. The doctor is sweating – he hasn't performed surgery in five years – and he's drunk. But there's no-one else. The nurse offers him a tray full of fresh instruments. The doctor refuses. From his back pocket he produces a scalpel. Blunt. Dirty. Rust spots. Leaning in, he makes the first incision… Check out the video for this song.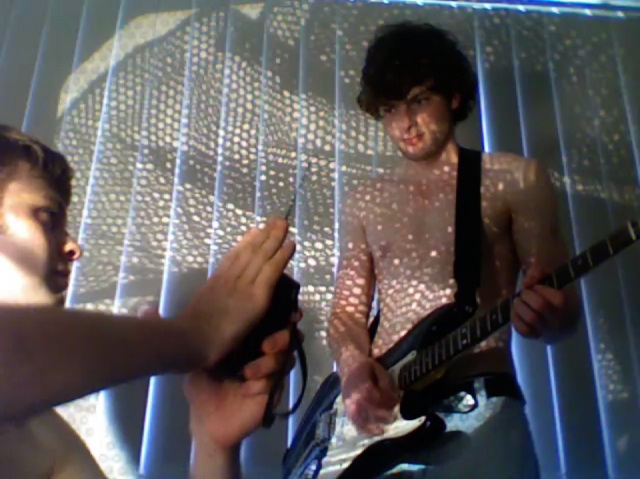 Finnigan and Brother – Golden Globe videos
One of the key instruments in the Golden Globe sessions was the overhead projector, responding to and influencing the music through the vivid images emerging and evolving organically from David's lo-fi VJ/shadow-puppetry. Check out clips for the following tracks on Youtube:
finnigan and brother – medical drama
finnigan and brother – golden globe pt 1
finnigan and brother – golden globe pt 2
finnigan and brother – mr crab
finnigan and brother – the goddamn kings of leon pt 1
finnigan and brother – the goddamn kings of leon pt 2
finnigan and brother – the network performed very well
finnigan and brother – deeper than the deepest ocean pt 1
finnigan and brother – deeper than the deepest ocean pt 2
finnigan and brother – you can't all be right