It's not often you finish projects. Actually, you know, finish something. And arguably, things are never done, only put aside. But sometimes I think you can make a case that you've taken a thing from first principles to a place of relative completion.
So here's this: Finnigan and Brother Spend A Month In Colombia.
In July 2012, Chris and I went to Medellin, Colombia, to spend five weeks in residence at Campos de Gutierrez, an artist space curated by Andres Monzon in the foothills of the Andes. We wrote a bunch of new songs and performed an array of gigs in galleries and community-arts spaces around the city.
Upon return, we recorded all 25 of our new songs at the RMIT Studios in Melbourne, produced by Nickamc. The three of us selected 10 songs from the 25 and Nickamc began editing and mixing them into an LP.
Filmographers Jordan Prosser and Sam Burns-Warr (filmographologists?) directed the video for our putative single Move To Canberra, featuring a swarm of awesome and generous cats. The clip went up on Youtube and got something in the order of 850 views or some number that was sufficient to warm the hell out of our cockles.
And then we played a launch gig at Smiths Bookshop a couple weeks ago, presenting seven songs from the record, supported by the extraordinary Paul Heslin and Amelia Filmer-Sankey. And like 90 people showed up. And it was just lovely.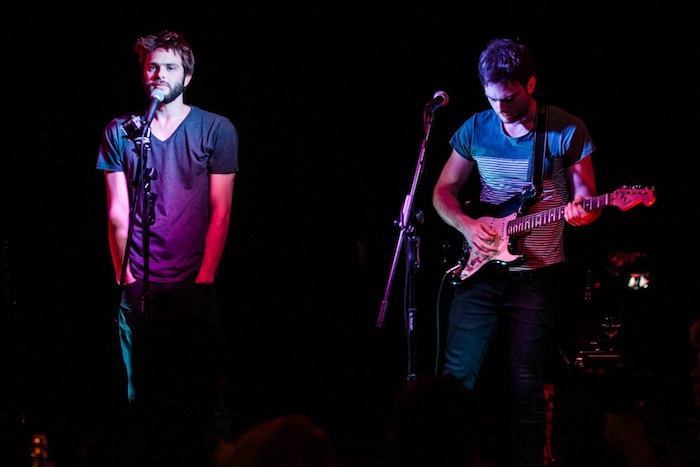 image by adam thomas
Now there's a couple of other things to let loose – there's a couple of songs from Colombia we're planning to release, plus the video from the live gig, plus an exciting remix or two, but for now, I'm calling it: our first record is DONE.
Now I'm a kid who knows virtually nothing about music, so massive thanks to everyone who shepherded Chris and I through this. Thanks to everyone who listened to and/or downloaded the record (from the Bandcamps, if you so desire). And thanks massively to Chris, who it is as always a massive pleasure to be brothers with.
Lastly, a couple quick thoughts about the record from the two of us.
FAVOURITE SONG
CHRIS: It would be have to be Skyspike. I like the murky, bassier production and David's slight white-boy rap esque delivery complements the music perfectly.
DAVID: Definitely Crashing Pipes. Chris' guitar on that one is so trippy and melancholy I have at times forgotten to say my lines because it's so captivating. And it's pretty honest about where I was at.
MOST FUN TO PERFORM
CHRIS: Fireflies is probably my favourite to play because I can make a different euphoric pop ending to it with every single play. And pop is fun.
DAVID: It's only been appropriate to perform Christian Music Festival twice, but both times it's been all kindsa stupid fun.
BIGGEST MISTAKE
DAVID: Nickamc would insist it was our cover of the Spin Doctors' Two Princes, but I'm really into that effort. Christmas Is The Time has jarred with Australian audiences as much as it weirdly worked in Colombia – maybe we coulda anticipated that?
CHRIS: I don't know if it was our biggest mistake, but that video we shot in Colombia where David quoted excerpts from the 1997 film 'Gattaca' while filming the cow in the paddock didn't really seem to make the final cut of… anything.
WEIRDEST EXPERIENCE
DAVID: The Altavista gig, where we played just before a community theatre troupe depicting South American politics through the medium of tramps fighting over scraps of newspaper. Or the Mantana que Piense gig, where we played just before a touring Latin American folkdance showcase. Basically any gig organised by Gustavo Gil, the man is a wonderful genius.
CHRIS: As I was being pushed and shoved down a Melbourne laneway, whilst bound and blindfolded, at 12.13am, by two men I had met less than an hour ago, I began to reflect on the way Finnigan and Brother had impacted on my life over the past twelve months.
Now we're into a quiet phase of activity, but we'd like to give you a nudge, if you will: the next Finnigan and Brother gig will take place at This Is Not Art in Newcastle on Friday 4 October. It's the 10th anniversary of Critical Animals and we're playing at the launch of their commemorative journal, Critical Animalia. We are doing a tribute to the Skywhale, whatever that means. But the main thing is, Critical Animals is running a crowdfunding campaign to help pay for the journal, and you can contribute. Indeed you must contribute! Go there now.