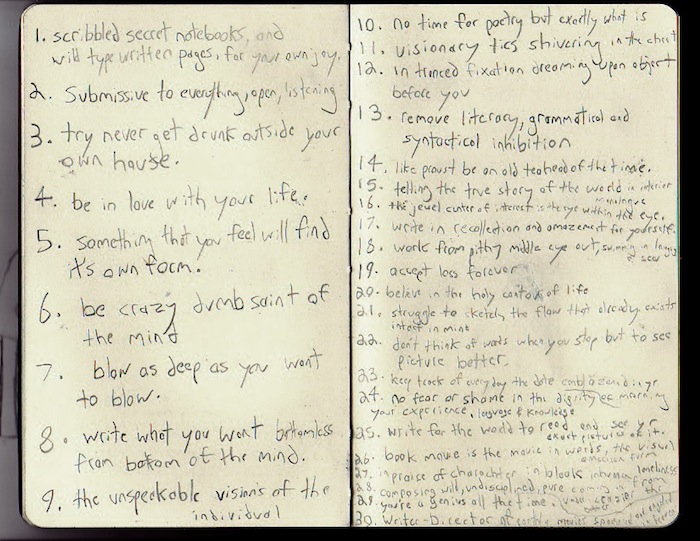 Jess Bellamy is one of those people who is not just a brilliant writer and a fucking hilarious observer of the world, she's also a compassionate and beautiful mind with an extraordinary creative impulse. Her writing is incredible. Her writing is incredible. Her writing is incredible. Seek her out.
The only problem with Jess is that she lives in Sydney, and I don't, and consequently we don't get to see each other or collaborate or hang out as much as I'd like. We've worked together for the last couple of years on a series of insane pop culture triologues with Hadley (Tokyo Tween Knife Brawl and You Are Here vs Teen Makeouts) and we were in Manila together in August working with Sipat on LoveNOT, but still. Few and far between.
THEN: two weeks ago, I was in Sydney for a couple of nights, staying at Jess', and we took a morning out and sat in a cafe with Jack Kerouac's list of Belief and Techniques for Spontaneous Prose. I don't want to proselytise about Kerouac, you either dig him or you don't, but I should acknowledge that I think he's incredible, and one of the reasons I write at all. The list of Belief and Techniques is basically a set of commandments for how to write, which is as exciting and inspiring as words ever get.
Anyway, Jess and I sat and talked through the list, and then we sat down next to each other and wrote, and what we wrote we have now compiled into a single script, entitled JESS AND DAVID READ KEROUAC'S ESSENTIALS FOR SPONTANEOUS PROSE. The two pieces, hers and mine, run along parallel lines, each touching on different elements of our conversation and moving at different speeds, highlighting different moments, retelling parts in different voices, and feeding back to the list itself.
Included in the script is Kerouac's list itself, so I won't include it here – but what I will include is a couple of short lines from Jess' piece. There's so much in there, I don't know where to start or what to say about it except I'm so fucking grateful to get to write with people like Jess, to share this sort of work. Dig this:
Today is Tuesday the 8th of October 2013 and it is nicer to start my day with that than with a Hebrew prayer and today is an important day, important enough for me to sit up and stretch and name it so. Here are the things that matter to me on this exact day, in the order that they catch up with the swimming turtle and fish in the ocean of the DJ with attitude:
–    expression
–    creativity
–    friendship
–    French toast with salted caramel
–    New sprigs on my plant to celebrate spring
–    Text-flirting
–    The perfect amount of sun for everything
–    A horizon that warps and bubbles a little with excitement.

There is chaos and it will be ok or it will not.
There is fear and it will be ok or it will not.
There is uncertainty and it will be ok or it will not.
There is panic and it will be ok or it will not.
Well, yes.
Download Jess and David Read Kerouac's Essentials of Spontaneous Prose.doc