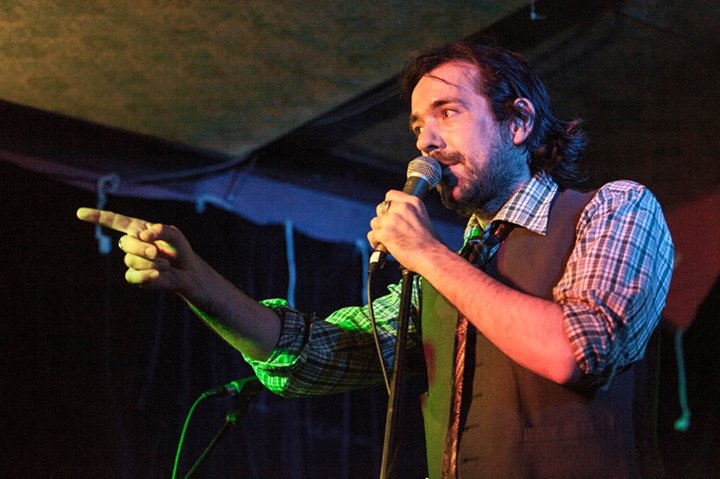 andrew galan, the man hisself, image by adam thomas
This week I had the wild-at-soul privilege of performing at an extremely special event – Mr Andrew Galan launched his first book of poetry, That Place of Infested Roads, at the Phoenix this week. Launching any kind of book, anywhere at any time, is a pretty rad achievement, but this one sat particularly close to my heart as Andrew has been carving out a really phenomenal voice and style over the last few years, and I'm excited that this book can act as a kind of snapshot for where he's at now. In two more years he will have changed completely, this much we know for sure.
Right now though, Mr Galan's poems are weird unsettling stabs from the outside. He strings together disparate images in a strange, halting, sometimes stumbling flow. Sometimes stanzas rush and surge and tumble, and then trip you when you come to the end of a line and realise the poem has shifted under your feet.
There are dense clusters of references – pop culture, high culture, places and people – but knowing who or what Galan is referencing doesn't by any means decode the poems – he uses these symbols in counterintuitive ways that confound any simple readings. Sci fi authors such as Frank Herbert, J.G. Ballard and Ray Bradbury take part in eerie military actions amid 'squeezebox drone', just to take the first example I find when I open the book.
What I love about Andrew's writing is that it circles around a deep, passionate, almost scary emotion. There's so much heat and urgency in what he's writing, you know it straight away. At the same time, he never wades in and announces anything directly, never gives you the answer to what he's striving to express. Reading his work, and listening to him perform it (which is a whole other visceral experience) forces you to switch off certain sense-making parts of your brain and try instead to see and feel the ideas he's unpacking.
A few lines from one of my favourites in the collection, 'S.T. Picard':
Two-AM, a rust stop sign
beside a rough wheelbarrow
that has just one handle
the other wood is lost
on an island of men missing
parts of limbs, parts of faces, parts of hearts
she ministers the wounds of these casualties
from eleven dimension midnight alley knifings.
She is S.T. Picard
she puts high-heel boot on
ahead of dark leather boot on
Gamma Road
at will caffeine appears in her hand
triple fire, she is leaving
lemon in the sheets
with a hiss and a purr
Anyway, this is not a review nor was meant to be, this is just me expressing my appreciation and admiration to one of the most distinctive and exciting artistic voices in the ACT scene, as well as one of the warmest and most generous people I've ever worked with.
For the launch, Andrew gave each performer a poem from his book to interpret and perform. Mine was 'The upstairs food court', an image-rich depiction of (what I took to be) the second level food court of the Canberra Centre shopping mall. It's a sparse, measured poem with a devastating final line.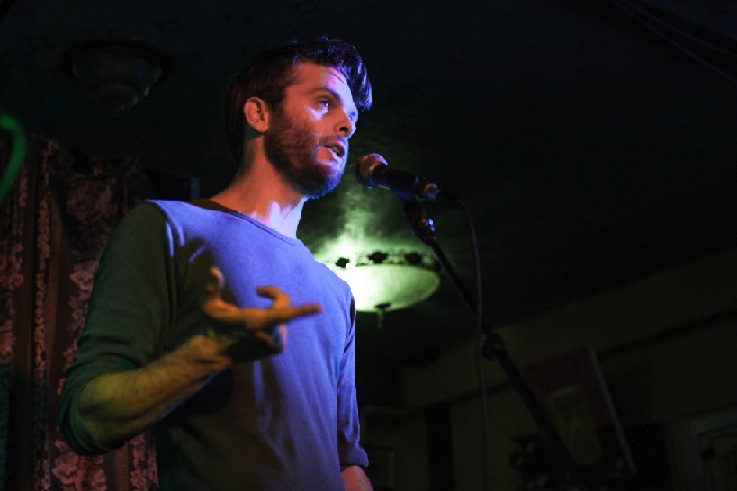 a less good dude, also imaged by adam thomas
My approach was to type out the poem into a word document, then sit throughout the performance adding in new lines, comments, snippets from other poems, scraps from the conversation around me and the MC interludes. And then I performed that. It worked well on the night but it's not something that holds up well after the fact, I think, because it relies so much on the circumstances of the night. Still, there were some lines I enjoyed – this is one.
2am on an island full of men
missing parts of faces parts of limbs parts of hearts
she puts high heeled boots on
once and twice so she does not violate relativity
and if you're lying where the mice have crept
the animals wept
amelia burned and slept
the pack of rats lived
the soap encrusted bathwater tap
cause this is her
carcass to carcass
give them the things
that they deserve
give them the shots of caffeine
the magic mystery
the last clutch of the redhead scratch
the amazed the head on the pillow
and with each precise stilleto
I see galan poised there in a courtyard in madrid
we might all be symbols
and adam says well that was the best thing
is it a personality that wounds me? when we met at andrew's place to eat ice cream?